Badoo Online Dating Review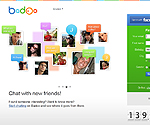 If you like social networking, you'll love Badoo. Badoo launched in 2006 starting out in Europe and quickly spread internationally becoming one of the fastest growing dating sites. Badoo operates in 180 countries and has over 139 million users and growing! It's a great place to meeting single people as well as new friends.
Badoo is very easy to use and you won't be bombarded by ads on their site like some other dating sites. You can sign on with Facebook or through a regular login and even add photos through your other sites.
There are 3 services:

1. Free: Allows you to create a profile and upload information, photos and use the chat feature
2. Rise Up: The rise up Badoo Service gives preference to your profile in search results for your geographic area
3. Spotlight: The Spotlight Badoo service puts your profile on the top of the page for a specific geographic area.
Privacy:
Badoo gives you a lot of control over what people can see through their setting feature including who can see your profile, if you can be searchable through email and search results as well as pictures and videos. You can also put your profile in invisible mode which they don't really recommend since you are trying to meet people. For instance, if you look at someone's profile you can ensure you don't show up on other's people's profile for 'Profile visitors."
So get started and join today for free and see what all the buzz is about.
28M people a month access Badoo to meet new people. Sign up today to meet 1000's in your area!